Song Zu Ying: Cultures of China – Festival of Spring
Sunday, March 03, 2013 at 6:00 PM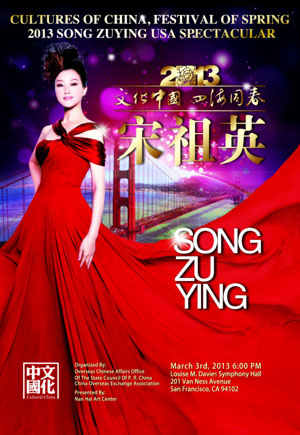 Song Zu Ying: Cultures of China – Festival of Spring is the annual celebration of the Chinese New Year. One of China's most acclaimed stars, Song Zu Ying performs for the first time on the west coast at Davies Symphony Hall.
Song Zu Ying has performed around the world in some of the best concert halls. In 2008, she sang a duet in the closing ceremony of the 2008 Summer Olympics in Beijing with tenor Plácido Domingo. Last year Song Zu Ying performed at the Royal Albert Hall with Bocelli, Yu Long and Lang Lang.
Zu Ying is also a Grammy Nominated artist, for Best Classical Crossover Album in 2006 for the album "The Diva Goes to the Movies: A Centennial Celebration of Chinese Film Song".